About eBiquity.ORG
Welcome to eBiquity.ORG, Pervasive Computing News and Developments.
eBiquity.ORG is a slashdot-like portal for news, discussion and community building for ubiquitous and pervasive computing. Our intended scope covers devices, communication technology and protocols, infrastructure, middleware, software architectures, mobility, applications, m-commerce and theory.
eBiquity.ORG is a part of the UMBC Pervasive Computing SIG .
If you have suggestions or comments for eBiquity.ORG, please send email to
Older Stuff
Monday, May 14
Saturday, May 12

Thursday, May 10

Wednesday, May 09

Tuesday, May 08

Sunday, May 06
Reviews
If you are interested in reading about the latest technologies in mobile computing, wireless network and pervasive computing, you might want to check out " Anytime Anywhere Computing, Concepts and Technology" by Helal et. al. Dipanjan Chakraborty has posted his review of this book.
---
Reviews is eBiquity.ORG's section for product or book reviews.

If you wish to create a Review for a product or book, just submit an article and prefix it's title with Review:.

Then you can just send an email to add your product or book review to this section.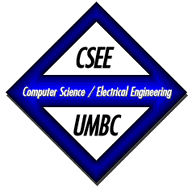 Posted by on Tuesday May 15, @11:01AM
from the dept.
We are getting very close to release the new eBiquity.ORG web site. I am very excited! If you are an eBiquity.ORG regular, please let us know what do u think about the new site. You can send emails to Harry Chen ()

For your everyday Pervasive Computing news needs, please visit the new eBiquity.ORG.
Read More...

Posted by on Monday May 14, @11:19PM
from the dept.
Advanced Micro Devices takes the wraps off its cheekily named Athlon 4 chip-at 850 MHz, 900MHz, 950MHz and 1GHz--and unveils its new mobile Duron processor too. AMD's No. 4 chip makes its PC debut this month in a Compaq Presario laptop. It's a thumb in the eye for Intel, which won't squeeze a Pentium 4 into notebooks until 2002.
Read More...
( 123 bytes in body)
Posted by on Monday May 14, @10:42PM
from the dept.
Read more about this
Read More...
Posted by on Monday May 14, @10:51AM
from the dept.
UMBC eBiquity.ORG just got better! The new eBiquity.ORG is committed to provide you with the latest Pervasive Computing news in both research academia and commercial industry.

Some of the new features:
Supports user personalization.
Supports highly customizable themes.
Added more academia related discussion topics, such as research publication, lab rats and pervasive computing in university.
Added user forums for pervasive computing discussions.
Enhanced "news submission" function.
Enhanced "review" function.
Added the "Web Links" section. Users can submit (and vote for) their favorite links.
Added the software download section.
Enhanced support for RDF channels.
Enhanced periodic news letter. (coming soon)
Read More...
Posted by on Saturday May 12, @02:42PM
from the dept.
Someone call James Bond! Wearable-computing company Orang-Otang wins patents for a credit card terminal for your wrist, a wearable laptop and a phone that fits under a shirt sleeve and slides into your palm with a flick of the hand.

A wearable-computing company specializing in wireless items this week including a credit card terminal that fits on a wrist and can print receipts.
Read More...

Posted by on Saturday May 12, @09:36AM
from the dept.
US handheld computer maker Palm has effectively halved the price of its new Palm VIIx. A $100-reduction on the US retail price could herald a sea change in the way connected devices are sold. At the beginning of the year the recommended price was $299. Since February the company has been offering a $100 rebate to anyone paying for a connection to the Palm.net service, effectively bringing the price down then to $199. The rebate is to be offered until the end of the year. The latest reduction brings the effective price to $99.
Read More...
( 3071 bytes in body)
Posted by on Saturday May 12, @09:28AM
from the dept.
As the first m-commerce Coke automats and parking solutions are launched in Scandinavia, Forrester and Kearney have done some rethinking on m-commerce.Their prediction is that mobile phone users neither can nor will pay over the phone. The telecom analysts were pretty optimistic about m-commerce during 1999 and 2000. This year however, has brought about a more sceptical mood. Despite retailers'enthusiasm for mobile payment, consumers don't want it, providers can't offer it, and technology can't support it, according to a new report by Forrester Research.
Read More...
( 3405 bytes in body)
Posted by on Thursday May 10, @06:30PM
from the dept.
NTT Docomo offers a new Data/Music mobile device from Panasonic. The Picwalk features Music Playback and Data Services over 64kbit/sec. It does not feature voice services, which is strange in my mind. This is still not the ueber device.